AC and DC Voltage Meters and Instruments, Amperage, Voltage, Frequency, Wattage and
Electrical Accessories for Electrical Systems, Marine Electrical Systems, and Marine Electronics



- Request a AC and DC Meter Instrument Quotation or ask a Question -

Call us at 1-800-826-2907
A
voltage meter
is an instrument used for measuring electrical potential difference between two points in an electric circuit. Analog voltmeters move a pointer across a scale in proportion to the voltage of the circuit; digital voltmeters give a numerical display of voltage by use of an analog to digital converter.
Voltage meters are made in a wide range of styles. Instruments permanently mounted in a panel are used to monitor generators or other fixed apparatus. Portable instruments, usually equipped to also measure current and resistance in the form of a multimeter, are standard test instruments used in electrical and electronics work. Any measurement that can be converted to a voltage can be displayed on a meter that is suitably calibrated; for example, pressure, temperature, flow or level on a vessel.
* More Data and Information on Marine Electrical Equipment

Electrical Equipment at psicompany.com
Battery Charger, DC Power Conditioner, Grounding Systems, Marine Search Light
Power Converter, Power Supply, AC and DC Electrical Panel, Inverter, Battery Accessories,
Electrical Enclosures, Electrical Accessories
Meters
AC and DC Voltage Meters and Instruments, Amperage, Voltage, Frequency, Wattage and Electrical Accessories for Electrical Systems, Marine Electrical Systems, and Marine Electronics - Request a AC and DC Meter Instrument Quotation or ask a Question - Call us at 1-800-826-2907 NewMar ACE-VAF110 4" AC Digital Multimeter A voltage meter is an instrument used for...
[Show More]
- Request a AC and DC Meter Instrument Quotation or ask a Question -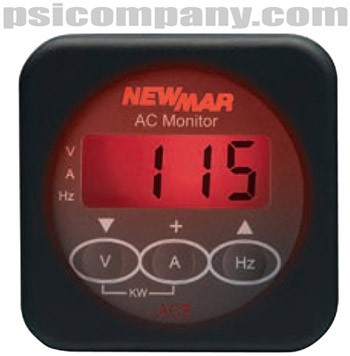 NewMar ACE-VAF110 4" AC Digital Multimeter
More Data and Information on Marine Electrical Equipment
Electrical Equipment
Battery Charger
DC Power Conditioner
Grounding Systems
Marine Search Light
Power Converter
Power Supply
AC and DC Electrical Panel
Inverter
Battery Accessories,
Electrical Enclosures,
Electrical Accessories